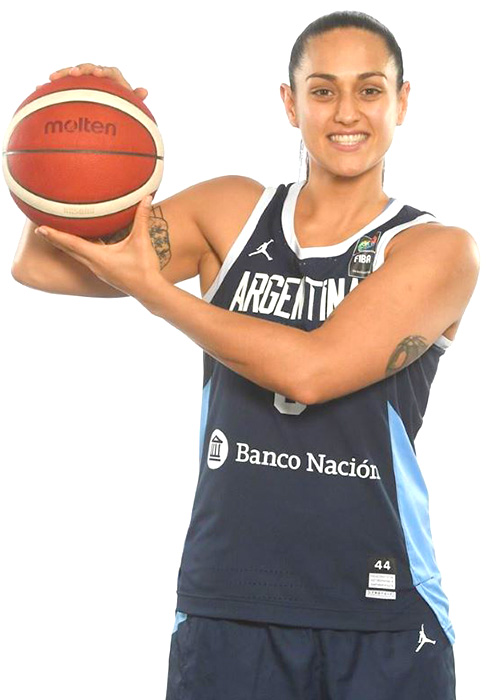 ANDREA BOQUETE

GUARD


HEIGHT: 182 CM
POSITION: GUARD
YEAR OF BORN: 1990
PASSPORT: ARGENTINA – SPAIN
TEAM: FERROL [LF CHALLENGE – SPAIN]
AVAILABLE 2022 – 2023: NO
LAST STATS – RACA GRANADA [LF CHALLENGE – SPAIN]
A TRUE all-around player!

Can play 2-3-4 position with the same efficiency.

Very good 3pt %

Hard to stop when she decide to play 1vs1 or run the fastbreak




A winner

Lot of options to score.

Very good rebounder.



2022:
Spanish LF Challenge 2nd Team
2021: Spanish LF2 Champion
2021: Eurobasket.com All-Spanish LF2 Honorable Mention
2019: FIBA AmeriCup in Puerto Rico: 5 games: 11.6ppg, 4.2rpg, 3.4apg, FGP: 44.1%, 3PT: 33.3%, FT: 66.7%
2019: Argentinian La Liga Clausura Champion
2019: Latinbasket.com All-Argentinian La Liga Clausura Finals MVP

2018; World Championship in Tenerife (Spain) : 3 games: 5.3ppg, 4.0rpg, 2.3apg, FGP: 15.4%, 3PT: 28.6%
2018: South American Championship in Tunja (Colombia) – (Gold): 5 games: 10.0ppg, 5.8rpg, 1.4apg, FGP: 46.7%, 3PT:26.1%, FT: 66.7%
2017: Estrella de Berisso (Superliga): 12 games: Score-5(15.2ppg), 8.0rpg, 2.5apg, 1.7spg,Blocks-5(1.0bpg), FGP: 44.8%, 3PT: 28.9%, FT: 80.4%
2017-2018: Associacio Esportiva Sedis Basquet (Spain-LFB): 10 games: 6.4ppg, 2.9rpg, 1.4apg, 2FGP: 37.3%, 3FGP:26.1%
2018: Obras Basket Buenos Aires (Superliga): Clausura: 16 games: 15.3ppg, 6.8rpg, 2.9apg,Steals-5(1.9spg), FGP: 54.5%, 3PT: 33.8%, FT: 63.9%; Apertura: 17 games: Score-3(17.1ppg), 9.2rpg, 3.1apg,Steals-5(2.5spg), Blocks-3(1.1bpg), FGP: 47.6%, 3PT-2(39.4%), FT: 81.0%
2019: Asociacion Quimsa Santiago del Estero (LaLiga, starting five): Clausura: 10 games: Score-5(14.7ppg), 6.3rpg,Assists-3(3.7apg), FGP: 39.5%, 3PT: 36.4%, FT-2(81.3%); Apertura: 9 games: Score-5(14.0ppg), 5.6rpg,Assists-5(3.4apg), 1.1spg, FGP-2(52.2%), 3PT: 37.1%, FT-(75.0%
2019-2020: Aros Patatas Hijolusa Leon (Spain-LF2, starting five): 21 games: Score-4(17.6ppg), 8.2rpg, 2.4apg, 1.9spg,FGP: 52.3%, 3PT: 33.3%, FT: 76.4%
2020-2021: Baxi Ferrol (Spain-LF2, starting five): 28 games: 9.0ppg, 4.6rpg, 2.2apg, 1.0spg, FGP: 55.6%, 3PT: 33.3%,FT-4(90.0%)
2021-2022: Raca Granada (Spain-LF Challenge)
MORE FORWARDS & POWER FORWARDS
No post was found with your current grid settings. You should verify if you have posts inside the current selected post type(s) and if the meta key filter is not too much restrictive.