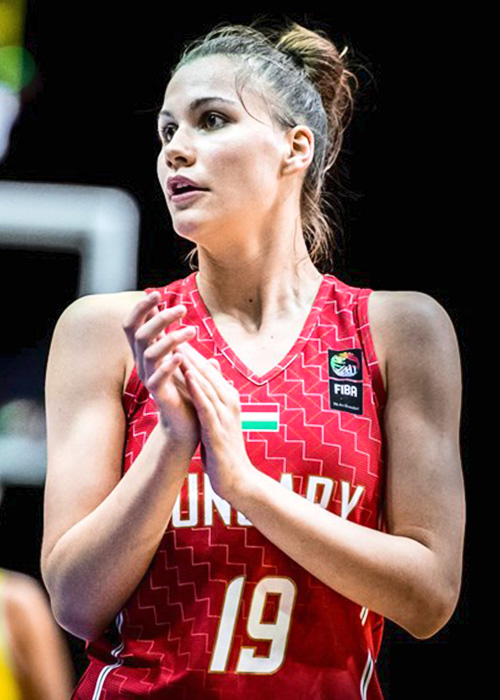 NORA WENTZEL
GUARD
HEIGHT: 178 CM
POSITION: GUARD
YEAR OF BORN: 2001
PASSPORT: HUNGARY
TEAM: PEAC PECS [EUROCUP- A1 HUNGARY]
AVAILABLE 2022-2023: NO
ONE OF THE TOP EUROPEAN YOUNG PROSPECTS.
LAST STATS – PEAC- PECS [A DIVISION – HUNGARY]
One of the top young prospects in Europe.
Great athleticism and size for the position.
Very good driving to the basket.
A good shooter from above the 3 point line.
Smart player with high basketball IQ.
2021: FIBA U20 Women's European Challenger in Sopron (Hungary) (Winner)
5 games: 10.8ppg, 5.0rpg, 2.6apg, FGP:61.3%, 3PT: 37.5%, FT: 87.5%
2021: Hungarian Cup Semifinals
2019: World Cup U19 in Bangkok (Thailand)
7 games: 8.0ppg, 2.4rpg, 1.4apg, FGP: 34.4%, 3PT: 40.0%, FT: 78.6%
2019: Hungarian U19 National Team
2018-2019: PEAC-Pecs (A Division): 27 games: 7.1ppg, 3.1rpg, 1.4apg, 1.0spg, FGP: 53.4%, 3PT: 30.8%,FT: 76.9%
2019-2020: PEAC-Pecs (A Division): EuroCup: 5 games: 8.2ppg, 2.0rpg, 1.2apg, FGP: 54.8%, 3PT: 25.0%,FT: 33.3%; Hungarian A Division: 21 games: 8.7ppg, 3.7rpg, 2.1apg, 1.0spg, FGP: 55.9%, 3PT: 28.6%, FT: 75.7%,played also at NKA-Pecs-PEAC (B)
2020-2021: PEAC-Pecs (A Division, starting five): 19 games: 11.9ppg, 2.6rpg, 2.8apg, 1.2spg, FGP: 46.5%, 3PT: 31.3%,FT: 81.1%
2021-2022: NKA Universitas PEAC (A Division):
No post was found with your current grid settings. You should verify if you have posts inside the current selected post type(s) and if the meta key filter is not too much restrictive.