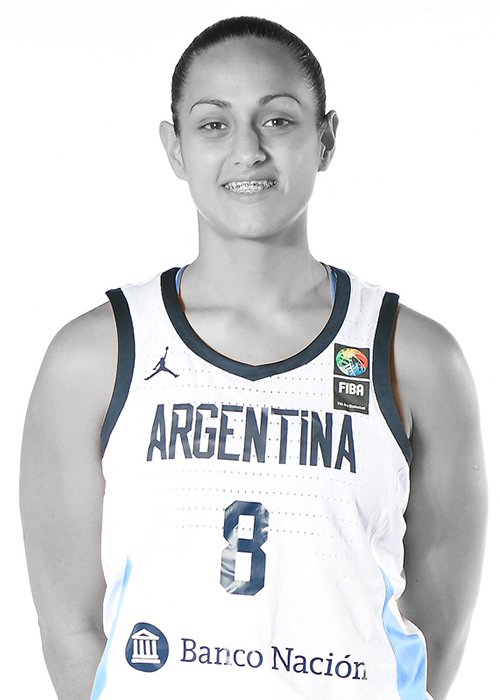 ANDREA BOQUETE
ALL AROUND


+

HEIGHT: 183 CM
+

YEAR OF BORN: 1990
+

PASSPORT: ARGENTINA/SPAIN
+

TEAM: BAXI FERROL [LF CHALLENGE – SPAIN]
ANDREA TEACHS BASKETBALL IN EVERY CENTIMETER OF THE COURT!
LAST STATS – BAXI FEROL [LF CHALLENGE – SPAIN]
A TRUE all-around player!

Can play 2-3-4 position with the same efficiency.

Very good 3pt %

Hard to stop when she decide to play 1vs1 or run the fastbreak




A winner

Lot of options to score.

Very good rebounder.
2022: FIBA South American Women's Championship in San Luis (Argentina)(Silver): 5 games: 11.2ppg, 3.8rpg, 1.4apg,
FGP-2(68.8%), 3PT: 37.0%2022: Spanish LF Challenge 2nd Team
2021: Spanish LF2 Champion
2021: Eurobasket.com All-Spanish LF2 Honorable Mention
2019: FIBA AmeriCup in Puerto Rico: 5 games: 11.6ppg, 4.2rpg, 3.4apg, FGP: 44.1%, 3PT: 33.3%, FT: 66.7%
2019: Argentinian La Liga Clausura Champion
2019: Latinbasket.com All-Argentinian La Liga Clausura Finals MVP
2018; World Championship in Tenerife (Spain) : 3 games: 5.3ppg, 4.0rpg, 2.3apg, FGP: 15.4%, 3PT: 28.6%
2018: South American Championship in Tunja (Colombia) – (Gold): 5 games: 10.0ppg, 5.8rpg, 1.4apg, FGP: 46.7%, 3PT:26.1%, FT: 66.7%
2017: Estrella de Berisso (Superliga): 12 games: Score-5(15.2ppg), 8.0rpg, 2.5apg, 1.7spg, Blocks-5(1.0bpg), FGP: 44.8%, 3PT: 28.9%, FT: 80.4%
2017-2018: Associacio Esportiva Sedis Basquet (Spain-LFB): 10 games: 6.4ppg, 2.9rpg, 1.4apg, 2FGP: 37.3%, 3FGP: 26.1%
2018: Obras Basket Buenos Aires (Superliga): Clausura: 16 games: 15.3ppg, 6.8rpg, 2.9apg, Steals-5(1.9spg), FGP: 54.5%, 3PT: 33.8%, FT: 63.9%; Apertura: 17 games: Score-3(17.1ppg), 9.2rpg, 3.1apg, Steals-5(2.5spg), Blocks-3(1.1bpg), FGP: 47.6%, 3PT-2(39.4%), FT: 81.0%
2019: Asociacion Quimsa Santiago del Estero (LaLiga): Clausura: 10 games: Score-5(14.7ppg), 6.3rpg, Assists-3(3.7apg), FGP: 39.5%, 3PT: 36.4%, FT-2(81.3%); Apertura: 9 games: Score-5(14.0ppg), 5.6rpg, Assists-5(3.4apg), 1.1spg, FGP-2(52.2%), 3PT: 37.1%, FT-2(75.0%)
2019-2020: Aros Patatas Hijolusa Leon (Spain-LF2): 21 games: Score-4(17.6ppg), 8.2rpg, 2.4apg, 1.9spg, FGP: 52.3%, 3PT: 33.3%, FT: 76.4% 2020-2021: Baxi Ferrol (Spain-LF2): 28 games: 9.0ppg, 4.6rpg, 2.2apg, 1.0spg, FGP: 55.6%, 3PT: 33.3%, FT-4(90.0%)
2021-2022: Raca Granada (Spain-LF Challenge): 32 games: 11.5ppg, 5.1rpg, 1.9apg, 1.4spg, FGP: 53.1%, 3PT: 37.2%, FT: 76.9%
2022-2023: Baxi Ferrol (Spain-LF Challenge): 30 games: 6.9ppg, 4.5rpg, 2.1apg, 1.1spg, 2FGP: 44.7%, 3FGP: 29.2%, FT: 81.8%
2023: Quimsa de Santiago del Estero (LaLiga Femenina, starting five)