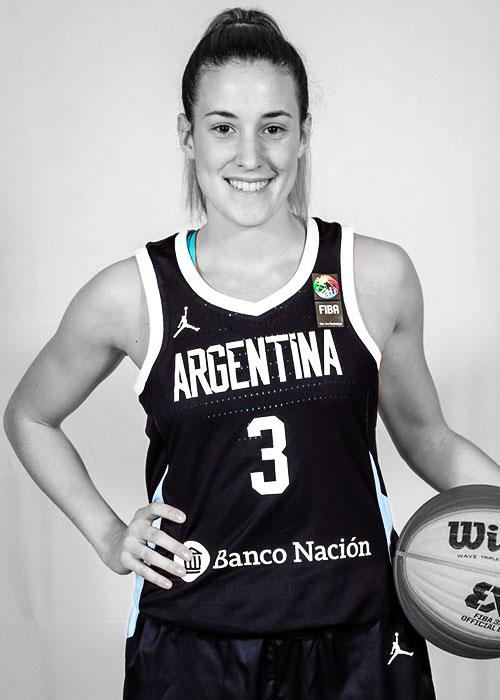 JULIETA MUNGO LANZETTI
FORWARD


+

HEIGHT: 183 CM
+

YEAR OF BORN: 1997
+

PASSPORT: ARGENTINA/SPAIN
+

TEAM: BAXI FERROL [LF CHALLENGE – SPAIN]
A SUPER ATHLETIC FORWARD, ALWAYS POSITIVE FOR HER TEAM! 
LAST STATS – BAXI FEROL [LF CHALLENGE – SPAIN]
A VERY athletic forward!

Can play 3-4 position with the same efficiency.

A top of the line defender.

Good playing 1vs1 front of the basket or running the fastbreak.

Good 3 point %.

Very good shot-blocker!
2022: FIBA South American Women's Championship in San Luis (Argentina) (Silver): 5 games: 7.0ppg, 3.8rpg, 1.2apg, FGP: 43.8%, 3PT: 33.3%, FT: 75.0%
2022: Spanish LF Challenge Playoff Semifinals
2021: FIBA AmeriCup in Puerto Rico: 2 games: 9.0ppg, 5.0rpg, Blocks-5(1.5bpg)
2021: Spanish LF2 Champion
2019: Argentinian Supercup Winner
2018: Argentinian La Liga Clausura Champion
Argentina National Team Under 18 – 20 – 3×3 – Senior
2018: Club Deportivo de Berazategui B.Aires (LaLiga, starting five): Clausura: 16 games: 4.7ppg, 2.3rpg, 1.1apg; Apertura: 17 games: 9.0ppg, 5.0rpg, 2.2apg, 1.3spg, FGP: 44.7%, 3PT: 31.0%, FT: 62.9% 2019: Asociacion Quimsa Santiago del Estero (LaLiga, starting five): Clausura: 10 games: 9.5ppg, 3.5rpg, 2.0apg, 1.2spg, FGP: 48.0%, 3PT-1(47.1%), FT: 63.9%; Apertura: 9 games: 9.1ppg, 3.4rpg, 1.8apg, 1.3spg, FGP: 50.0%, 3PT: 23.5%, FT: 53.3%
2019-2020: Aros Patatas Hijolusa Leon (Spain-LF2, starting five): 21 games: 11.0ppg, 6.6rpg, 1.9apg, Blocks-5(1.0bpg), FGP: 43.9%, 3PT: 31.4%, FT: 63.0%
2020-2021: Baxi Ferrol (Spain-LF2): 24 games: 4.7ppg, 3.1rpg, 1.4apg
2021-2022: Raca Granada (Spain-LF Challenge): 31 games: 9.3ppg, 4.8rpg, 1.3apg, 1.0spg, FGP: 35.2%, 3PT: 30.3%, FT: 55.6%
2022-2023: Baxi Ferrol (Spain-LF Challenge):29 games: 6.2ppg, 3.8rpg, 1.6apg, 1.0spg, 2FGP: 42.9%, 3FGP: 30.6%, FT: 67.5% 2023: Quimsa de Santiago del Estero (LaLiga Femenina)