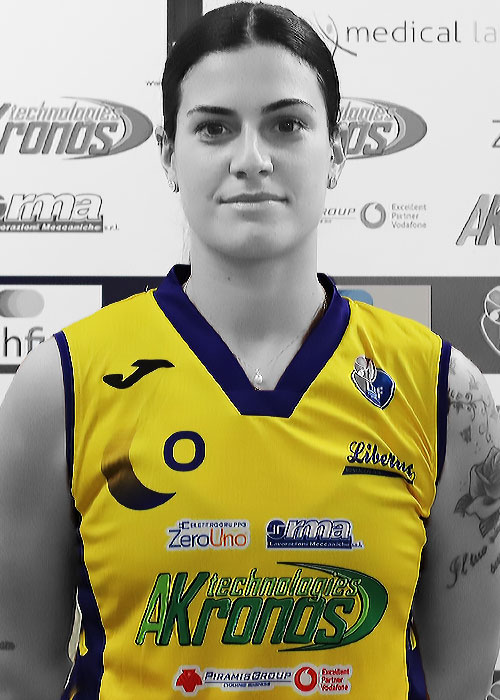 MARZIA TAGLIAMENTO 
FORWARD

+ HEIGHT: 183 CM
+ YEAR OF BORN: 1996
+ PASSPORT: ITALY
+ TEAM: FAENZA [A1 – ITALY]
ONE OF THE BEST 3 POINT SHOOTERS IN EUROPE! CAN SHOOT FROM EVERYWHERE!
Best 3 point shooter you can sign!
A top class scorer that can score in almost any way.
Very smart passing the ball from SF position.
Can play in the low post.
Good rebounder expecially in offense.
2022: French LFB Semifinals.
2022: French Cup Winner.
2021: Serie A1 Semifinals.
2018: Serie A1 Champion.
2018: Italian Cup Winner.
2017: Euroleague Quarterfinals.
2017: Supercup Winner.
2016: European Championships (FIBA EuroBasket) U20 in Matosinhos (Portugal) -2016 (Silver): 2 games: 14.5ppg, 1.0rpg, 1.0apg, 1.0spg
Italian National Team – Under 16 – 18 – 20 – Senior
2017-2018: Famila Wuber Schio (Serie A1): 28 games: 4.6ppg, 1.6rpg; Euroleague: 15 games: 2.3ppg, 1.0rpg
2018-2019: Dike Napoli (Serie A1, starting five): 14 games: 11.3ppg, 2.9rpg, 1.3apg, 1.0spg, 2FGP: 48.8%, 3FGP: 41.7%, FT: 78.8%
in Feb.'19 moved to Duran Maquinaria Ensino Lugo (Spain-LFB): 8 games: 6.1ppg, 1.1rpg, FGP: 23.5%, 3PT: 34.3%, FT: 55.6%
2019-2020: Treofan Battipaglia (Serie A1, starting five): 9 games: 14.0ppg, 5.6rpg, 2.6apg, 2FGP: 42.4%, 3FGP: 30.8%, FT: 69.6%,
in Dec.'19 moved to Passalacqua Spedizioni Ragusa (Serie A1, starting five): 9 games: 7.1ppg, 3.1rpg, 1.7apg, FGP: 56.3%, 3PT: 40.6%, FT: 77.8%
2020-2021: Passalacqua Ragusa (Serie A1): 18 games: 9.4ppg, 3.0rpg, 1.7apg, FGP: 50.0%, 3PT: 35.2%, FT: 81.3%
2021-2022: Passalacqua Ragusa (Serie A1): 20 games: 12.0ppg, 2.9rpg, 2.6apg, 2FGP: 54.8%, 3FGP: 44.5%, FT: 77.4%
in Mar.'22 moved to Basket Landes (France-LFB): 11 games: 4.1ppg, 1.1rpg, 1.1apg
2022-2023: Akronos Moncalieri (Serie A1):12 games: 14.8ppg, 4.8rpg, 2.9apg, FGP: 48.2%, 3PT: 28.8%, FT: 71.1%
2023: Libertadores de Queretaro (Mexico-LNBPF, starting five