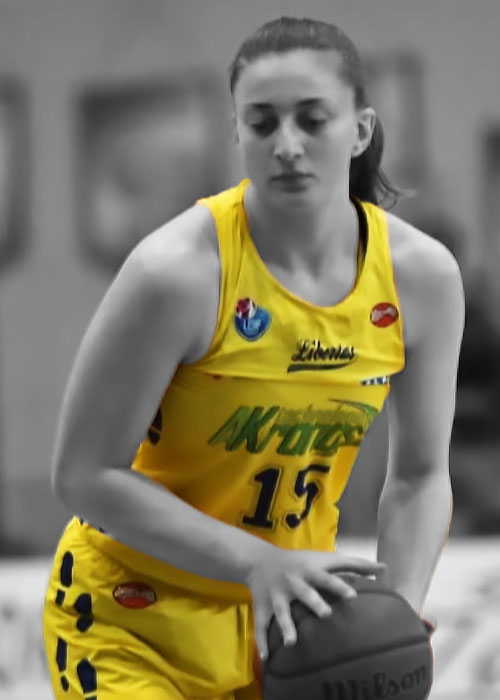 KATARINA TREHUB
CENTER

+

HEIGHT: 192 CM
+

YEAR OF BORN: 1997
+

PASSPORT: CROATIA
ATHLETIC CENTER, VERY GOOD REBOUNDER & INTIMIDATOR! 
LAST STATS – KP BRNO [ZBL – CZECH REPUBLIC]
Great size and athleticism.
Very mobile for her height.
Good arsenal of offensive skills.
Excellent rebounder.
2022:Eurobasket.com All-Croatian Premijer Liga Second Team.
2021: Italian Serie A2 Winner.
2021: Italian Serie A2 Cup Semifinals.
2020: Eurobasket.com All-Italian Serie A2 Honorable Mention.
2019: Eurobasket.com All-Croatian League Center of the Year.
2018-2019: ZKK Pula Crnja Tours (Prva Liga): 24 games: Score-3(18.3ppg), Reb-1(14.1rpg), 3.3apg, 1.9spg, Blocks-3(1.5bpg), FGP: 51.2%, FT: 66.2%
2019-2020: BK Itas Alperia Bolzano (Italy-Serie A2): 20 games: 11.9ppg, Reb-5(10.7rpg), FGP: 48.4%, FT: 50.8%
2020-2021: Bruschi San Giovanni Valdarno (Italy-Serie A2): 17 games: 8.4ppg, 7.4rpg, 1.1spg, 2FGP: 41.8%, 3FGP: 33.3%, FT: 73.0%,
in Apr.'21 moved to Akronos Moncalieri (Italy-Serie A2): 14 games: 8.9ppg, 7.9rpg, FGP: 46.4%, FT: 50.0%
2021-2022: ZKK Pula (Premijer Liga): 12 games: 14.2ppg, 10.8rpg, 3.1apg, 1.0bpg, FGP: 51.7%, FT: 48.3%
2022-2023: Sport Lisboa Benfica (Portugal-Liga Feminina): Eurocup: 5 games: 5.6ppg, 4.8rpg, 2FGP: 41.4%, FT: 57.1%; Portuguese Liga Feminina: 4 games: 11.0ppg, 5.5rpg, 1.0apg, in Dec.'22 moved to Akronos Moncalieri (Italy-Serie A1): 8 games: 2.4ppg, 2.6rpg, in Mar.'23 signed at Valosun KP Brno (Czech Republic-ZBL): 3 games: 6.3ppg, 6.7rpg, 1.3apg